"Is it safe?" – This is usually the first question I get about traveling to Mexico. But it's never the last. I get a lot of friends (and friends of friends) going to Mexico City for the first time. I get a lot of questions, so I've made a list of Mexico travel tips. If you're planning a visit to Mexico for the first time, this post is for you. Though written about Mexico City, this post can apply to travel anywhere in Mexico. These travel tips will cover the most common questions like safety, where to stay, and getting around. I've also thrown in travel basics and unsolicited advice that is useful to most travelers.
In the late '90s on my way back from Oaxaca, I had my first stop in Mexico City. It was overwhelming at the time. The bustling streets buzzed with iconic green vochos – Volkswagen Beetle taxis. Travel books warned me not to get in those VW bugs because I could be kidnapped or worse. I erred on the side of caution and let the hotel call my transportation as I didn't want to find out what "worse" could be.
Twenty years later, the time of the vochos is long gone. Green taxis replaced with pink and white. Polished and branded with CDMX (Ciudad de Mexico), they are iconic in their own right. But in a city where so much has changed, the chaos endures. Concerns for safety are still expressed by my family and friends. But the truth is, I feel very safe in Mexico City. Like any city there are dangers, but then the love and the hospitality of the people emerge above all. This urban wonder is a place not to be missed.  You shouldn't let things you may hear in the media scare you out of missing out on an incredible time in Mexico. So, here are some tips for the first-time traveler to Mexico City.
Is is safe to go to Mexico?
Let's get this out of the way first. In short, the answer is YES – it is safe to travel to Mexico City. Mexico gets a lot of bad press. Yes, bad things do happen here. But bad things happen in every country. Despite the initial concerns of my family, I have always felt very safe here. When my family visited for the first time, they also felt safe and reassured about my well-being. But like any big city, you need to be vigilant. Practice common sense and exercise general precautions to have a safe trip.
Safety tips for traveling to Mexico City:
Stay Alert
Always be aware of your surroundings. Who is around you? What is ahead? What is behind? Keep a watchful eye for suspicious people and activities.
Rely on All Your Senses
Keep your eyes off your phone and focused on the environment around you. Keep your headphones out of your ears. Listen for on-coming traffic or foot-steps running up behind you.
Don't Be Flashy
Avoid wearing jewelry or using accessories that look expensive. Keep your money out of sight. When using the ATM stay alert, don't leave until you put all your money away. Separate your large bills like $500's and put them away somewhere more secure. Even when making a purchase, don't flash large amounts of cash.
Common Sense Adds Up
All cities have dangerous areas. These neighborhoods are best avoided. But when walking in any community in Mexico City, you should walk with a buddy and know where you are going before you leave. If you get lost and need to look at a map, find a safe place to stand with your back to a wall so you can see in front of you. Better yet step into the door of a small shop or convenience store. Don't stand on a corner using your mobile phone while being oblivious to your surroundings.
Be Aware in Crowded Spaces
When walking through the busy areas,  be mindful of your belongings. These areas include shopping markets, public transportation, street performances, or any large crowd. Keep your purses strapped across your chest and hold in front of you. Keep items like passports, wallets, and phones in your front pockets and if you feel the need, keep your hands in your pockets.
Let Someone Know Where You Are
Let a friend or family member know where you are staying and a general schedule of where you are going. Better yet, use an app like "Find Friends" so someone can see your location at all times from your smartphone.
Flying into Mexico City
Finding a Flight
When visiting Mexico City, you will be arriving at Benito Juarez International Airport. Airport code: MEX. I recommend using Google Fights to do your initial search. You can set the parameters for your trip and find a flight that's right for you. Google Flights aggregates flight information from different airlines, so you don't have to. It will also display savings for alternate airlines, airports or travel dates. After choosing a preferred flight, you may also find extra savings by looking at the specific airline's website or app. Apps like Expedia or Kayak can be very helpful for finding savings as well.
Coming from California, I prefer non-stop flights. Layovers usually aren't worth the savings that you have to exchange for the time and hassle. When booking flights also check the luggage fees. Most airlines allow a checked bag and carry-on. This varies greatly from airline to airline and between your travel destinations. Often cheaper flights will charge for a checked bag and then the flight actually costs more in the end. So do your due diligence before booking your flight.
Customs & Immigration at Mexico City Airport
While flying into Mexico, a flight attendant will give you a customs/immigration form. You will need to fill this out and give it to the immigration officer upon your arrival. You will likely arrive at Terminal 2. When you exit the plane, you will go down long halls until you get to a large room with escalators. This is the Immigration checkpoint.
Immigration
You will go down to the floor and see lines at immigration to enter the country. Go to the side that says "Foreigners/Extranjeros". File down the line and have your passport and customs/immigration form ready when you get to the front of the line. There may be workers checking your papers to make sure everything filled out properly before getting to the check-point. When it's your turn watch for the next immigration officer waving you on and saying "pase". You will present your passport and forms. You may be asked what you are doing for your visit? Unless you are traveling for work or education, "Turismo" (Tourism) will most likely be your answer. You will get a stamp in your passport and a stub from your form with how many days you are granted in the country. You will usually be granted a stay of 180 days in the country.
Baggage Claim & Customs
After passing through the immigration check-point, you will proceed to the baggage carousel. Look for your flight number and watch for your luggage.
After you retrieve your luggage, you will continue to the exit. You will exit large glass doors and you will be in the airport terminal. Here you will find restaurants, cafes, money exchanges, bank ATMs, and taxi services. I recommend withdrawing some pesos from an ATM while at the airport. Read more on money and banking below.
Getting to Your Hotel from the Airport
You can use Uber or taxi to get to your hotel in the city. I recommend Uber, but I've included instructions for taking a taxi from the airport. You can find more information on transportation options in Mexico City further below.
Taxi from the Airport
To get a taxi, first, you'll need to find the taxi stand (sitio). Proceed outside the exit toward the "taxi" signs. You can ask any airport attendant for directions to the taxi stand as well. You will see booths outside the doors selling taxi rides. These are safe taxis to use.
First, you pay at the booth. They will charge you according to what neighborhood or zone you are going to. The ride usually costs about $20USD. It is about 40 minutes to an hour to one of the main neighborhoods (Condesa, Roma Norte, Zona Rosa). Or, you can also call an Uber to pick you up at one of the gates.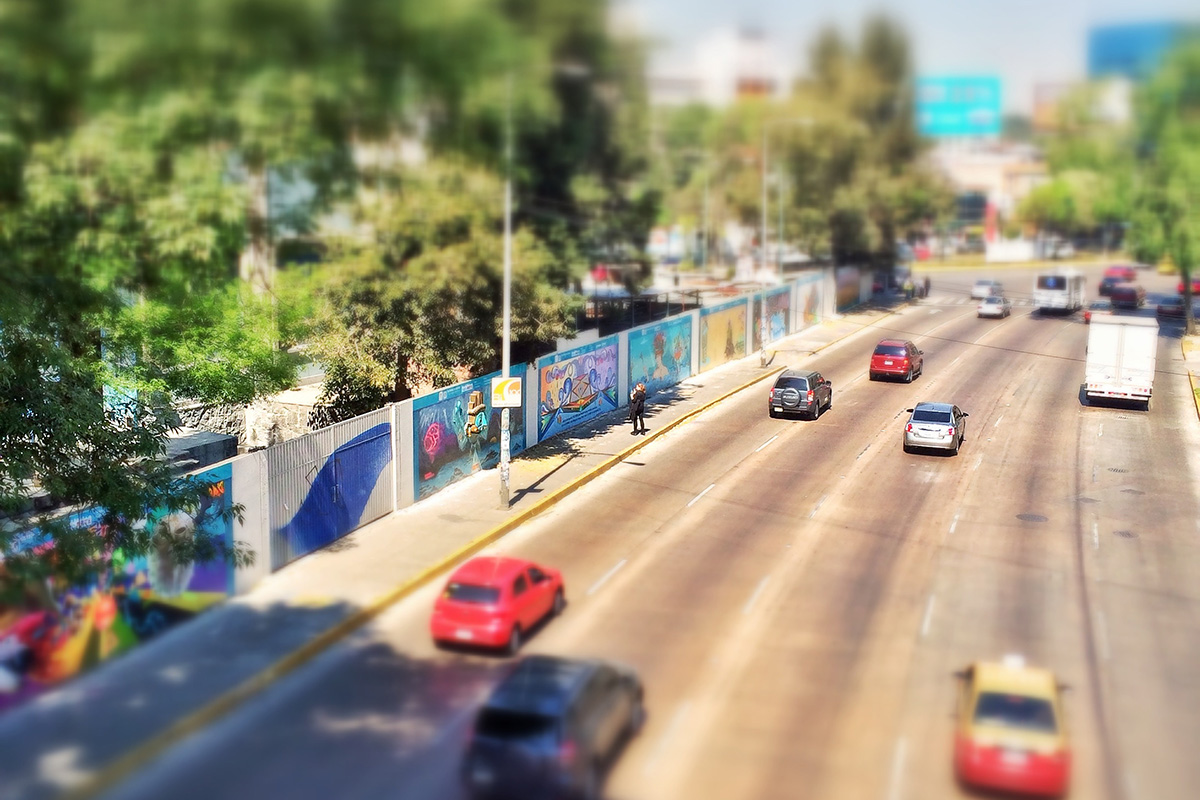 Getting Around CDMX – Uber, Taxis, and Metro
Though Mexico City is one of the largest cities in the world, it sometimes can feel like a small town. You will probably be staying in one of these neighborhoods: Condesa, Roma Norte, Zona Rosa, Coyoacán or Centro Historico. These neighborhoods are very enjoyable to walk. Walking is my preferred method of exploring any city. Biking is also a great option, especially in combination with the Metro system. However, during rains or long distances, you'll want to use an Uber or taxi.
Uber in Mexico City
Uber is best and easiest way of getting around. This is because you can call an Uber to your location and all transactions are handled within the app. So there is no exchange of cash. The drivers are usually very friendly – often opening doors for you, offering you water and helping with your luggage. Uber rides generally cost between $2-$5usd unless you are going very far out of the city.
Pink & White Taxis
Rebranded with CDMX on the side, the color-blocked white and pink taxis have a clear presence in Mexico City. They are a great mode of transport around the city. Drivers usually know the city pretty well and can get you places efficiently. Plus they are also affordable.
I don't have any problem hailing a taxi on the street. However, for first-time guests, I recommend using a sitio or having your hotel call one for you. The downside to having your hotel call a cab is that they will be much more expensive (double or more). A sitio is a taxi stand where there are guaranteed safe taxis you can find in many neighborhoods. They are usually slightly more expensive, but safe to take. You can ask a local where to find a sitio. There are also taxis specifically for women to help promote their safety.
Riding the Metrobus and Metro in Mexico City
The CDMX Metro system can get you almost anywhere in the city.  At only six pesos per ride, it's affordable and easy to get around on above ground on buses or the subway. You'll need to buy a Metro card and add credit at the kiosk of a major Metro Station. Another bonus is you can use the same card for the bus and the subway.
Map It Out
The city is huge, it can be confusing and easy to get lost in. Use an app like GoogleMaps to keep track of your whereabouts in the city. I recommend downloading the map into your phone so you have full access to it without a mobile or wi-fi signal. Simply go to GoogleMaps App, and go to "Offline Maps". It will give you an option of an area to download to your mobile device.
Where to Stay in Mexico City
No matter what your budget, you'll be able to find great accommodations. Hostels, hotels and AirBNB's are abundant. But first, you'll want to figure out what neighborhood you want to stay in.
Which Neighborhood is Right for You?
Mexico City is a vast metropolis. The city is divided into several colonias – neighborhoods. But most people usually stay in the "bubble" near Centro Historico. You'll find wonderful neighborhoods like Condesa, Roma, and Zona Rosa in close proximity. These neighborhoods are easy to navigate between. However, there are definitely other neighborhoods worth exploring outside of the bubble. And then there are others, like Polanco – the Beverly Hills of Mexico City. I'd rather spend my time in more authentic areas. Each neighborhood has a different personality, so you should find one that's right for you.
Condesa & Roma Norte
Roma Norte is my favorite neighborhood to stay in. It's easy to get around on foot from place to place. It offers a nice balance of old school tortillerias and modern mezcalerias. Families mix with hipsters at local markets and street food is abundant. It's laid back, yet full of vibrant excitement.
Condesa offers a nice central park with large trees and meandering pathways. The park comes alive on the weekends with couples strolling, kids playing, vendors selling treats. The neighborhood is rich with art deco architecture and upscale eateries. Both neighborhoods are central and generally safe. They have plenty of restaurants, cafes, shops, galleries, and museums.
Zona Rosa & Reforma
Zona Rosa is Mexico City's "gayborhood". In this gay neighborhood, you'll find walk streets lined with gay bars, nightclubs, cafes, restaurants and many underwear shops. There are bars for twinks, bears, and everything in-between. There is a large Metrobus station nearby and it's easy to get around from this neighborhood.
Reforma is one of the main routes that runs through the city at the edge of Zona Rosa. Here you'll find the US Embassy, government offices, corporate and financial institution headquarters. If you're going for business, it's likely you'll stay around here. Every Sunday, you'll find this strip closed to traffic and open to pedestrians, cyclists and more for Ciclovia.
Coyoacán & San Ángel
Coyoacán – home of Frida Kahlo – is one of the most charming and beautiful neighborhoods of Mexico City. Located to the south of the center, this neighborhood offers quaint streets, cafes, churros and more peaceful nights. San Ángel is the neighborhood adjacent to Coyoácan and is even more tranquil.
Centro Historico
The edgiest of these neighborhoods, the centro offers deep history. Aztec empires, Spanish colonialism, and Mexico's modern achievements are evident in the architecture. Government buildings and cathedrals surround the Zócalo – city square. Museums and mariachis are must in this area.
Hotel or AirBNB?
After choosing your neighborhood, you'll want to figure out your budget and what type of accommodations you want. If you're on a tight budget you might want to try a hostel. There are some great ones in Centro Historico and other neighborhoods as well.
I prefer using Airbnb when I travel. You can find interesting places to stay, live like a local off the beaten path and often meet great people. You'll usually save more money than you would spend on a hotel. Click this link to save money on your first stay at an Airbnb.
You'll find all sorts of hotels in the city. There are familiar chains like The Marriot and small boutiques with amazing spaces. The Red Tree House is a favorite in the neighborhood of Condesa. If you want to go big, you can't go wrong with the St. Regis Mexico City. Expect exceptional suites and service at a great location on Reforma.
High Altitude – Breathe Easy
Mexico City is at a very high altitude and sometimes the air can be smoggy. Because of this, sometimes people experience altitude sickness upon arrival. This may include symptoms of fatigue, shortness of breath, headaches, or nausea. Take it easy the first night or two with the alcohol and smoking. Stay hydrated and get plenty of rest.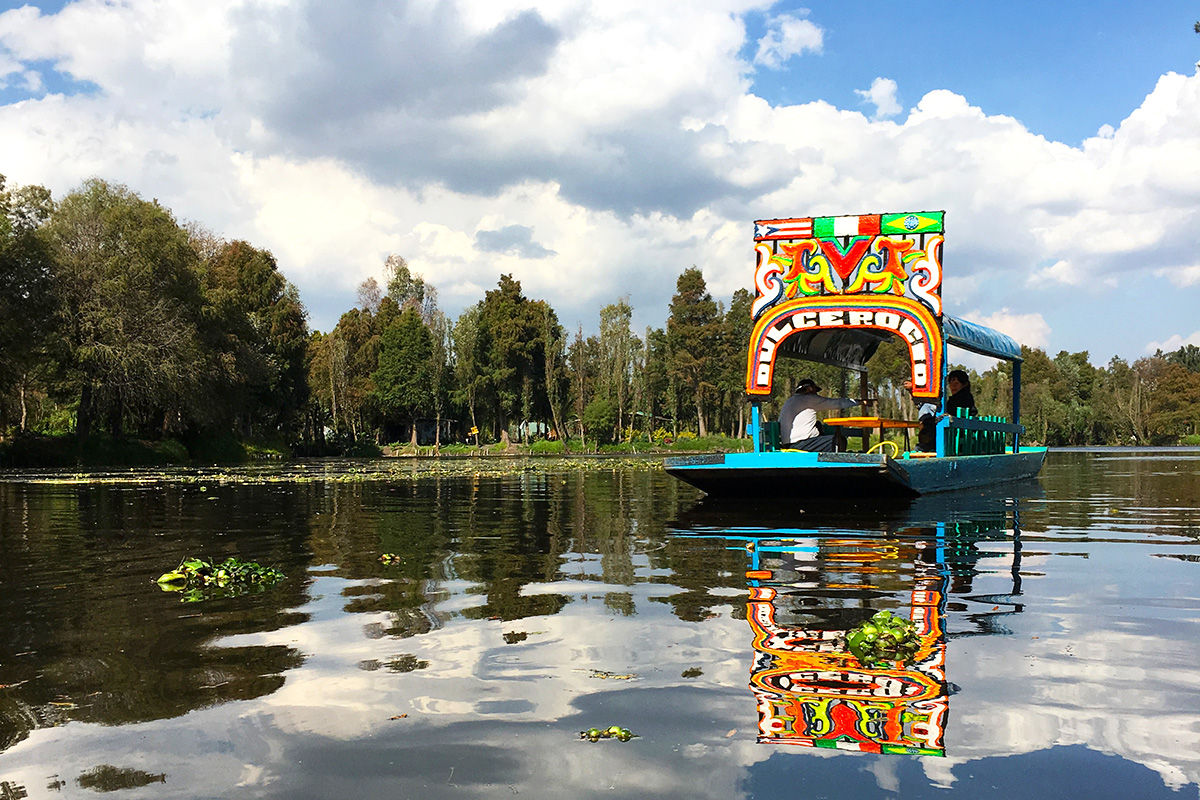 Sunshine & Rain
Usually, when people think of Mexico, they think of beaches or desert. Mexico City is neither. The vast metropolis is located high in a mountain valley surrounded by volcanoes. The weather patterns can be divided into two seasons – wet and dry.
The wet season begins around May and lasts until October. You can predict beautiful daily weather in morning into the afternoon. It's usually that perfect combination of 72º and sunny. Then suddenly in the late afternoon, the storm arrives. Beginning anywhere between 3pm-6pm and lasting for hours, water pours from the sky. Then the next day is beautiful once again. There are times with long periods of rain, hail and surprise storms, so always be prepared.
The dry season is typically from November to April. It can get a little warmer. Because there is less rain to cleanse the air, the smog can be worse.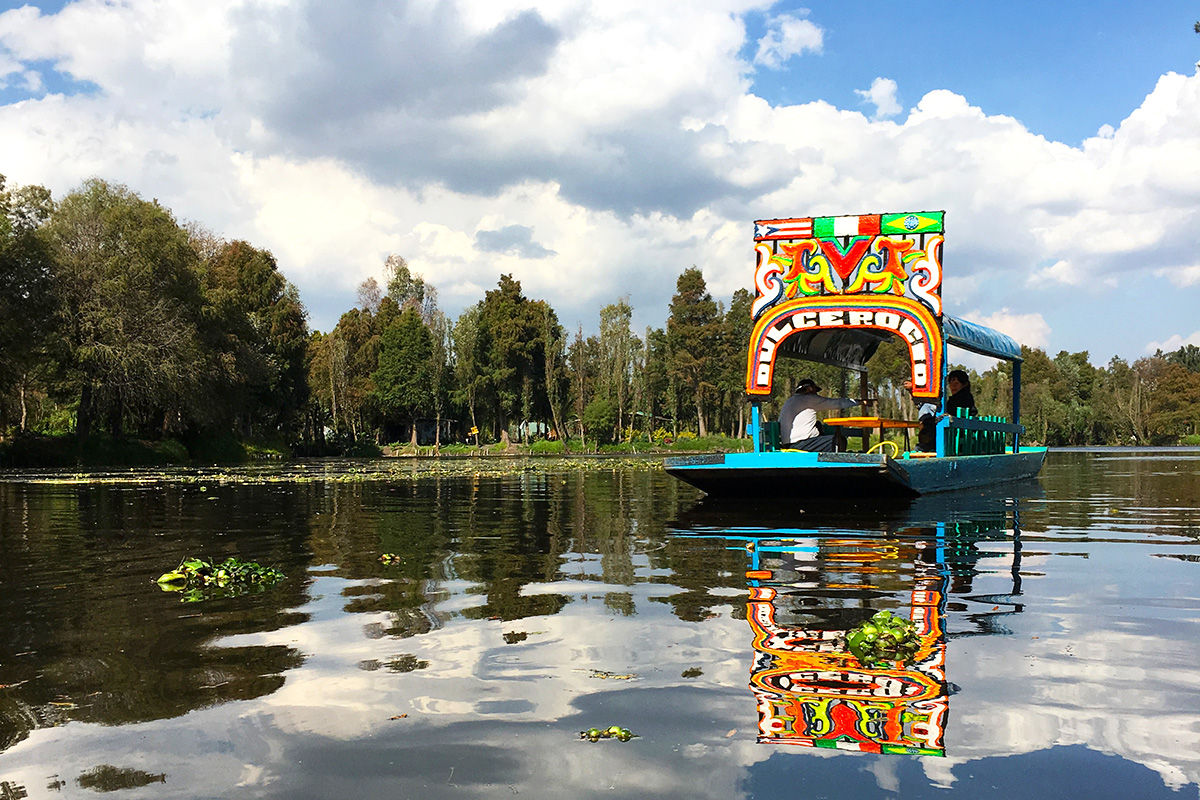 Water – Buy the Bottle
"Can I drink the water?" This is a question I'm always asked. The answer is DO NOT drink the tap water. You can shower and brush your teeth, but don't swallow. Some people use bottled water to brush their teeth, but I've never had a problem after all these years.
Buy bottled water for drinking water or to make your coffee or tea. Water and ice served at restaurants are generally purified and safe to drink, you don't need to ask your waiter. Locals also eat at these places. The restaurants can't afford to let people get sick or they would be out of business. I drink aguas frescas and licuados off the street all the time. Look to see if they have big jugs of purified water so you know it's clean.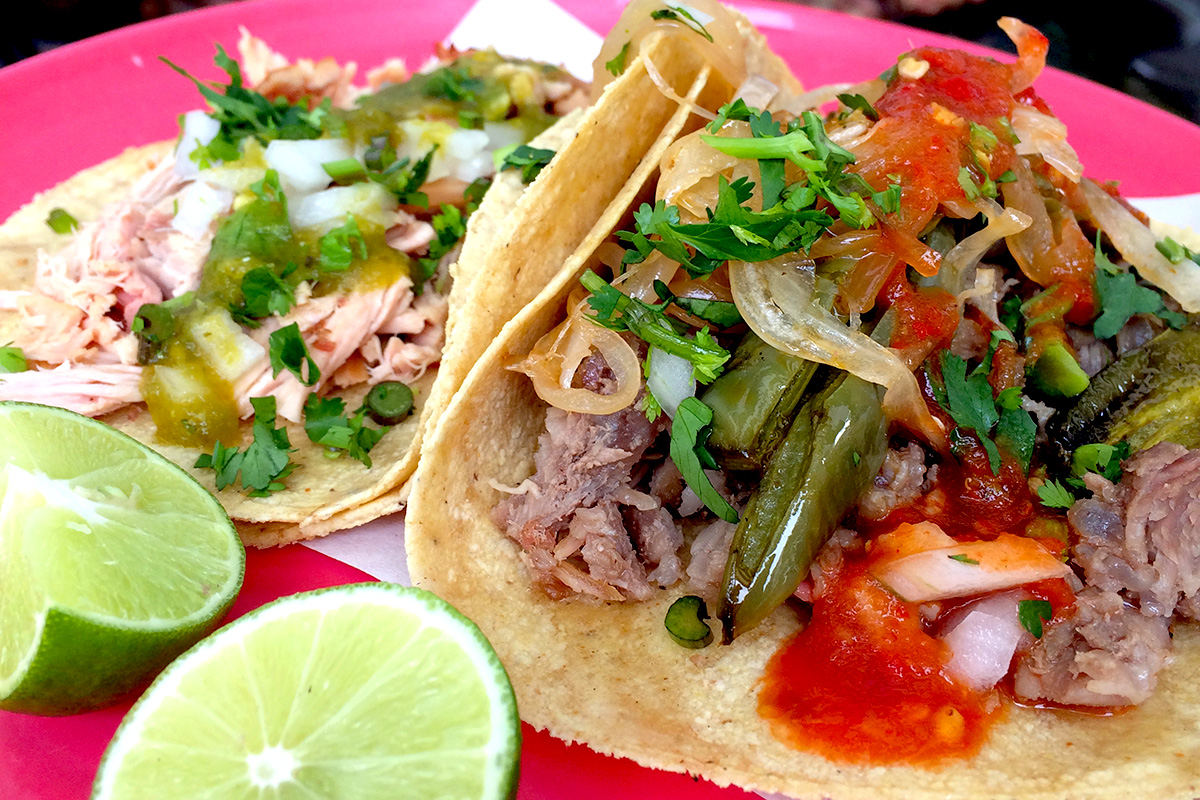 Foodie Feast
There's no doubt that Mexico has some of the best food in the world. In Mexico City, you'll find a wide range of ingredients and dishes from different regions of Mexico. Don't be afraid to try new things, you'll surely be surprised at the amazing array of flavors Mexico has to offer.
The food is affordable and delicious. Whether you're eating street food on a corner, comida corrida in a market, or a gourmet meal at a four-star restaurant, your tongue will be delighted. And you should sample this wide range of styles. Of course, you can always book a food experience with me to take you around to some of our favorites. But you surely can adventure out on your own.
Breakfast
If you're up early for breakfast, it's easy to step into a panaderia for a pan dulce and coffee. In the morning you'll find fresh-squeezed orange juice, licaudos, quesadillas, and tamales sold along the street. You have to try a quesadilla de huitlacoche con queso – it's corn fungus and cheese served in a handmade corn tortilla. It might sound terrifying, but you'll find it to be tasty, especially if you like mushrooms. Sit down at a fonda for chilaquiles (my favorite), enchiladas or huevos rancheros.
Lunch & Dinner
Lunch is typically served later in the afternoon. You'll find restaurants opening at about 1 pm and serving lunch until about 3pm-4pm. This is a great time to grab some tacos or a torta. Even better, give a local comida corrida a try. You'll be served a few courses, usually a soup or rice, the main dish, a dessert and usually an agua fresca or coffee – all for a very affordable price.
Dinner is much later in Mexico. Expect to eat no sooner than 8 pm but more like 9-10pm. Take it easy on the spice late at night if you don't want heartburn.
TIP: When you're finished eating, you will need to ask for the check. It's very rare that a waiter will bring you the check until you ask for it. Simply say "La cuenta, por favor" (check, please).
Eating Street Food
Eating street food is one of the best things you can experience in Mexico City. Street food is abundant and delicious with stands offering up tacos, quesadillas, carnitas, fruit and more. But I have a few rules that help me judge where to eat.
Street Food Safety Tips
First and foremost, use your common sense and best judgment.
If it's busy, it's good. If you see a crowded stand and others nearby that aren't, you can bet the food is good and safe to eat.
Vendors using plastic gloves to collect money and with hand sanitizer on display is a good sign of hygiene awareness.
I prefer to eat street food that is further into neighborhoods, rather than close to Metro stations. This is because locals will tend to go back to the same place in the neighborhood. There's a  lower quality of food and cleanliness near Metro stations. This because the customers aren't necessarily returning customers.
Don't eat from stands with nearby garbage build up or standing water. This usually goes in hand with bugs and rodents and should be avoided.
If You Need a Bathroom...
Mujeres & Hombres
Avoid the mistake of walking into the restroom marked "M" if you're a man. "M" is for "Mujeres" (women) and "H" is for "Hombres" (men). You may also see "Damas" for women and "Caballeros" for men.
Don't Flush Paper, Use the Wate Basket
You usually don't flush toilet paper at most establishments in Mexico. With exceptions of some hotels, in most restrooms, you will put your toilet paper in a wastebasket next to the toilet. Don't try to flush it or you will end up with bigger problems.
Finding a Public Restroom
It's a good idea to keep some change on you to use a public restroom. It usually costs five pesos. If you are out in the city and need to use the restroom, you can often find them in public parks and markets. You will often see handwritten signs in smaller neighborhoods that say "WC" or "Baños", you'll find restrooms here.
Money and Banking
Though there are exceptions, US Dollars are not generally accepted in most places and you will need to use pesos. When you leave to go out for the day, I recommend bringing only what you need. Small amounts of cash on you and maybe one credit card is the way to go. Be discreet with your money. Keep your cash hidden while you put it away at the ATM. Keep your smaller bills and change handy, while keeping your $500 peso bills tucked away.
Using the ATM
To get the best and most current exchange rate, I recommend withdrawing money from an ATM in Mexico. When I arrive at the airport, I immediately withdraw pesos from the ATM in the airport. I usually start with $4000-$5000 pesos which lasts me awhile. If you are withdrawing cash from a bank, be aware of the fees (foreign exchange rate fees, ATM fees, and your bank may have additional fees). Money is withdrawn in pesos but will be reflected on your account as a USD amount. You will also see a foreign transaction fee.
TIP: before you leave, call YOUR bank and find out what fees you will have. Find out if they have a sister bank that will not charge ATM fees or foreign transaction fees. Also, set up a travel alert with them, letting them know where you will be traveling and what dates. You can also likely do this on your bank's app.
Cash is King
Everyone accepts cash in Mexico. Unless you are going to a resort town that caters to tourist, you'll likely need pesos. You can bring cash and exchange dollars for pesos. I usually bring a couple hundred US Dollars in cash for back up and to have dollars when I return to the states.
If you bring cash, you can exchange dollars for pesos at the airport. But, I recommend trying a currency exchange in the city for a better exchange rate. I recommend using a "casa de cambio" in the Zona Rosa neighborhood. The area is tourist friendly and has many money exchange houses. If you exchange more the $500USD at a time, you will need your ID.
TIP: If you bring US Dollars, bring $100 bills, you get a better exchange rate than using five $20 dollar bills.
Using Credit Cards
Though smaller businesses often only accept cash, many businesses accept Visa and Mastercard. Mexican millennials are starting to use smartphones to process credit card payments. You will get the most for your money using a credit card at a trusted business. It's an easy way to pay and usually saves money. Use a credit card that doesn't have a foreign transaction fee and hopefully rewards as well. Be sure to pay off your card when you get home! I also recommend downloading an app for your bank on your smartphone. This will allow you to verify charges as you make them on your trip.
Change is Good
Change is always good, but right now I'm talking about coins. Yes, you'll need change for the restrooms. But it can be difficult to make change for purchases at small businesses. They often don't have enough change and sometimes have to leave to go make the change with a neighbor or friend. For this reason, to save time and hassle, it's good to keep a coin purse with change and small bills. If you get a $500 pesos bill, you can usually break them at large supermarkets (Sumesa, Superama) or a nice restaurant.
Culture and Etiquette
Mexicans are very friendly and polite. It's common for a stranger to greet you on the street in passing. It's always good to brush up on your language skills when traveling. You can buy pocket dictionaries and flashcards. I recommend getting the apps Google Translate and Duolingo for your smartphones.
You will usually be greeted in the morning by "buenos dias". It pays off to be respectful and polite as well. Always start with a "buenas tardes" (good afternoon) or "hola" (hello) when greeting someone. Please and thank you are good manners in any language so learn "por favor" and "gracias". You don't need to know a lot of Spanish, but a little will go a long way.
Patience will go a long way too. Time moves slower in Mexico. People enjoy each moment in life and are never in a rush. So when a waiter doesn't bring your check at the end of the meal, realize that they are not ignoring you. They are letting you enjoy your company and conversation until you signal that you are ready to go. Remember to take your time in life and don't be pushy.
A Different Time Zone
Mexico City is in the Central Time Zone. Though it observes the time change, it happens on different dates than in the USA. Though your phone will change your time, double check your watches and alarms to make sure you're in sync.
Stay Connected: Wi-Fi & Mobile Devices
You'll be able to find Wi-Fi all over the city. You'll be able to connect in some public plazas and parks. Most cafes and restaurants will have it, simply ask for the password or "clave". If you're in town for awhile, I suggest making a list of passwords from various locations you visit. Then, you'll have several Wi-Fi connections when you are out and about.
Wi-Fi will save you money on your mobile plan. I do suggest calling your mobile company and seeing if they have an add-on plan while you are traveling. This will save you international charges.
You may want to consider downloading the app Whatsapp if you don't already have it. Almost everyone I know in Mexico uses this as a primary way to communicate. You can send text, voice messages, images and make calls easily through Whatsapp.
Emergencies & Travel Insurance
Of course, when traveling you should do everything possible to make sure you are prepared for any type of emergency. The information here is for US Citizens, but the general principles apply to everyone. Check to see if your country offers corresponding services. Here are some tips to get you prepared for your adventure.
Sign Up for the Smart Traveler Enrollment Program
If you have travel concerns you can enroll in the US Department of State STEP Program. The Smart Traveler Enrollment Program (STEP) is a free service to allow U.S. citizens and nationals traveling abroad to enroll their trip with the nearest U.S. Embassy or Consulate.
Know How to Contact Your Embassy
Write down the contact information for your embassy on a piece of paper. Keep it in your wallet on you at all times in case of an emergency. It is also a good idea to keep the information on your mobile device.
Here is the US Embassy information for Mexico City:
U.S. Embassy Mexico City
Paseo de la Reforma 305
Colonia Cuauhtemoc
06500 Mexico, D.F.
Phone: ( 55 ) 5080-2000
Note: You may need to dial +52 as a prefix if you are calling from a US number.
Travel Insurance
It's generally a good idea to have travel insurance in case of an emergency – medical or otherwise. There are many different travel insurance agencies that offer different plans. Sometimes, your airline will offer the add-on option of travel insurance. I have been using Seven Corners for my travel insurance since 2011 and I've been very happy with their service. If you have more questions about travel insurance, you can watch this short video below.
Pharmacies, Hospitals, and Emergencies
Pharmacies are ubiquitous in Mexico City. There are many pharmacy chains in every neighborhood – some in supermarkets. Some even deliver. If you have a cold or small medical issue, you can go to a pharmacy and see an attendant who can prescribe some medications.
For more serious illness and injury you should seek out a hospital in your neighborhood. Of course, if you are in a life or death situation, seek out an emergency room.
For sickness or minor injuries, I highly recommend TuDoc in Polanco. I had a wonderful experience with them when I injured my hand. They were very responsive on Whatsapp and professional in the office. TuDoc is an affordable clinic without the nightmare experience that you might find at an emergency room or public clinic. So, if you aren't in need of an emergency room, try TuDoc first!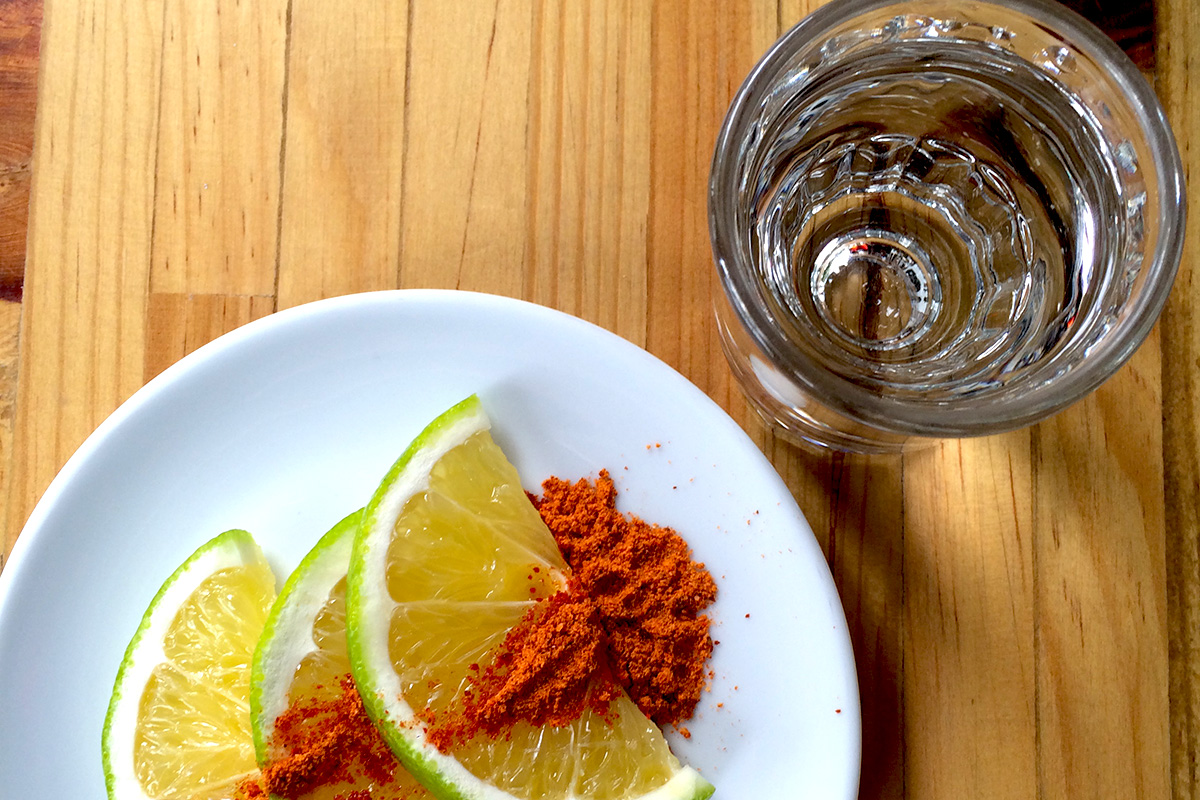 More Questions About Traveling to Mexico?
If you have any questions about Mexico travel tips that weren't addressed in this post, please leave a comment below and I'll do my best to get you an answer. You can also send me a message here.