This armored ball with its hooked shaped spines, like many of its relatives, may look like a tiny green dinosaur, but in fact, it is a delicious fruit. The chincuya fruit falls in the family of annona and is closely related to the papausa (not to be confused with a papusa) and its most well-known cousin the guanabana.
Like the guanabana, its sherbet-orange flesh is slightly fibrous and envelopes several large brown seeds inside. This delicious fruit is ultra fragrant with a bright aroma of ripe cantaloupe. If you enjoy melon, you'll also like the flavor of this fruit.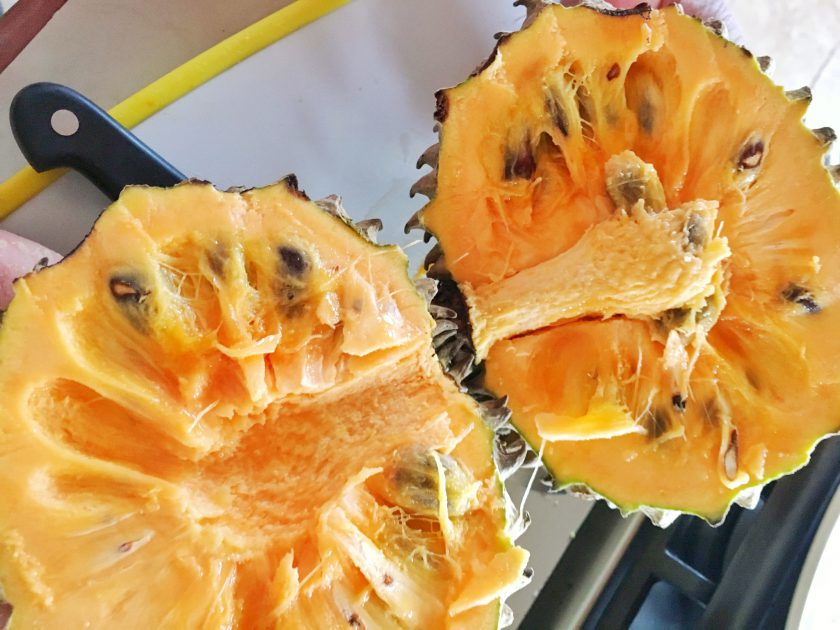 Where to Find Chincuya
Native to South and Central America, you will find this in some southern Mexican states such as Chiapas. The season is short, so if you see this at the market, buy it and give it a taste.
How to Choose and Store
Choose a fragrant and sturdy fruit. Keep the fruit on your counter, but it will only last for a few days before starting to spoil.
The flesh of the Chincuya fruit
Also Known As:
The latin name for the chincuya is Annona purpurea. However, there are many other name and spelling variations.
Also Known As:
• chincua
• ilama
• cabeza de negro
• soncuya
• sincuya
Common Uses:
• The flesh of the fruit is eaten raw. Be sure to pick out the large seeds.
• Mash the fruit, strain it and make an agua fresca.
• The nectar and inner-bark are valued for their medicinal uses.
Region:
Chiapas / Sounthern Mexico